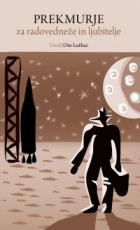 Title:
Edited by:
Other authors:
Year:
Keywords:
Language(s):
Description
The booklet Prekmurje za radovedneže in ljubitelje containing short articles on the characteristics of the economically least developed Slovenian province, is the first in the series of booklets that aim to provide a reader-friendly presentation of all Slovenian provinces. Starting with the culturally most diverse province, we illustrate its multicultural or rather intercultural character through the description of cultural monuments, where special mention should be made of the castles in Murska Sobota, Lendava and Grad, as well as through the presentation of individual personages, from Mihael Hadik a warrior against the Ottomans to rector of Trnava University Gyoergy Dobronoki. The text is an interesting palimpsest of natural, cultural and culinary fragments described by the associates of ZRC SAZU and guest authors from Ljubljana, Maribor and various places of Prekmurje. The volume was also published in German, under the title: Prekmurje für Neugierige und Liebhaber.
Table of content
Namesto uvoda: strah pred nostalgijo
ZA VSAKOGAR
Nerazvita pokrajina
Prekmurje – žitnica Slovenije
Goričko, Ravensko, Dolinsko
Madžarska in slovenska narodna skupnost
Prekmurščina
Strpnost
Melanholija
Zdravilišče Moravske Toplice
Vlado Kreslin
Murska Sobota
Lendava/Lendva
Angleška kolonija?
PRIZORI IZ PRETEKLOSTI
Zlato na Muri
György Dobronoki ali Jurij Dobrovniški
Mihael Hadik
Reformacija
Murska republika
Izseljenstvo
ŽIVA DEDIŠČINA
Proščenje
»Senje«
Lončarji
Medičarstvo
Borovo gostüvanje
Prekmurski plesi
MED REKAMI IN POTOKI
Reka Mura
Mrtvice
Poplavni gozd
Plavček
črna jelša
Štorklja
Aqualutra
Bukovniško jezero
Dobrovniške orhideje
KULTURNA POKRAJINA
Rotunda v Selu
Grad Grad na Goričkem
Grad v Murski Soboti
Grad Rakičan
Lendavski grad
Plečnikova cerkev v Bogojini
Judovsko pokopališče v Dolgi vasi pri Lendavi
Prekmurska hiša
»Gorička Mariška«
Mlini na Muri
Brod in brodarji
ZA SLADOKUSCE
»Diši po Prekmurju«
Bučno olje
Prekmurska šunka
Koline
Bujta repa – ubita repa
Dödöli
Prekmurska gibanic
More ...
Prekmurje za radovedneže; Demokracija 47/XVI (24.11.2011)
Matej Ficko: Prekmurje za radovedneže in ljubitelje: Knjiga, ki ni razbila stereotipov, ampak moje upanje; Sobotainfo.com (17.11.2010)
Branko Žunec: S knjigo nad stereotipe o Prekmurju; Večer (13.11.2010)
 
Publishing House
Založba ZRC
ISBN
978-961-254-232-0
Specifications
paperback • 11 × 18 cm • 173 pages